Gold Award for Cymryd Rhan CEO Nick Evans
We are very proud to announce that our Chief Executive Nick Evans was a Gold Winner at the 2019 Wales Care Awards.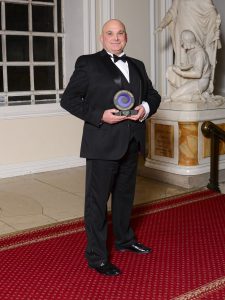 Nick said: "We had an absolutely fantastic evening at the Wales Care Awards 2019 in City Hall Cardiff hosted by Care Forum Wales. I felt very honoured and proud to be awarded Gold in the category of Leadership and Management in Supported Living or Small Group Community Living. I have always felt that it is a privilege to work in a job where we can make a difference to somebody's life, and I feel very humbled to have been recognised for this by receiving this award.
I had a lovely evening shared with my wife Esther, Ingrid Hunter, Jacquie Arden, Rob McCarthy, Sandra Powell, Davina Hutchinson, Julia Lewis, Helen Baynham and Freda Lacey,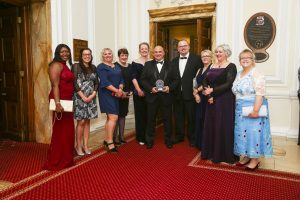 and was delighted to have been able to share this win with them, and also to receive the award on behalf of all of us at Cymryd Rhan for our hard work and dedication. We all make sacrifices working for this charity, and when we all step in, help out, interrupt our private time means that our families also make the same sacrifices. So this award is to say thank you to them but especially a big thank you to all of you for the amazing things that you all do."